About the Open Anatomy Project
The Open Anatomy Project is an ambitious project to fundamentally change the anatomy atlas through open data, community-based collaborative development, and free distribution of medical knowledge.
While still in its early stages, the Open Anatomy Project is already being used to teach anatomy from Harvard Medical School to Sub-Saharan Africa.
Introduction
To explain the goals of the Open Anatomy Project, we first look at what anatomy atlases are, why they are so important, and why we believe open atlases represent the future of anatomy atlas development.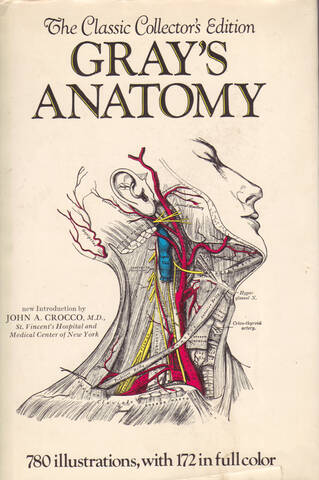 What is an anatomy atlas?
For most people, an anatomy atlas is a large book with illustrations of the different regions and systems of the body. Each region is labeled with the names of the organs and other anatomic structures that compose it. A textual description often describes the structures, their interrelationship, and their function. Taken together, the collection of information that makes up an atlas paints a comprehensive view of the body and how it works.
For our purposes, we generalize the definition of anatomy atlases to include any annotated collection of spatially organized medical information. This definition includes digital atlases as well as printed books. This broader view also covers specialized atlases such as those used in radiology, pathology, and microscopy.
Why are anatomy atlases important?
Anatomy atlases have been the cornerstone of medical education for hundreds of years: they are one of the first books a medical student needs. They act as a constant reference for practicing physicians throughout their career, everywhere the world.
Today, digital anatomy atlases, available on websites, tablets and phones, are bringing anatomic information to more people in more places than ever before. Whatever the medium, anatomy atlases provide essential information about the human body to physicians and the general public. Popular atlases of typical anatomy such as Gray's Anatomy have come to define what many people view as normal anatomy.
A new open model for anatomical atlases
We believe that closed, commercial medical atlases are inherently limited in quality, scope, availability, and ability to capture medical information. We believe that the medical information contained in anatomy atlases is too valuable, from a social perspective, to sell: the free and open distribution of medical knowledge can make millions of lives better.
We want revolutionize anatomy atlases in the same way that Wikipedia revolutionized the encyclopedia, and the way that open source software has revolutionized software development and computing. Open and free atlases, developed using the collective expertise and resources of the world's physicians and researchers, can provide the highest quality comprehensive and detailed medical knowledge to anyone who needs it, anywhere.
Without limitations of cost or ownership, this information can be used to teach a doctor in Africa, to explain a surgical procedure in China, or to 3D print a model of a child's heart in Boston.
And without the high costs of publication, expert physicians can share their knowledge and experience with the world, placing emphasis on the structures and topics they believe most relevent without commercial concerns.
Open Anatomy Browser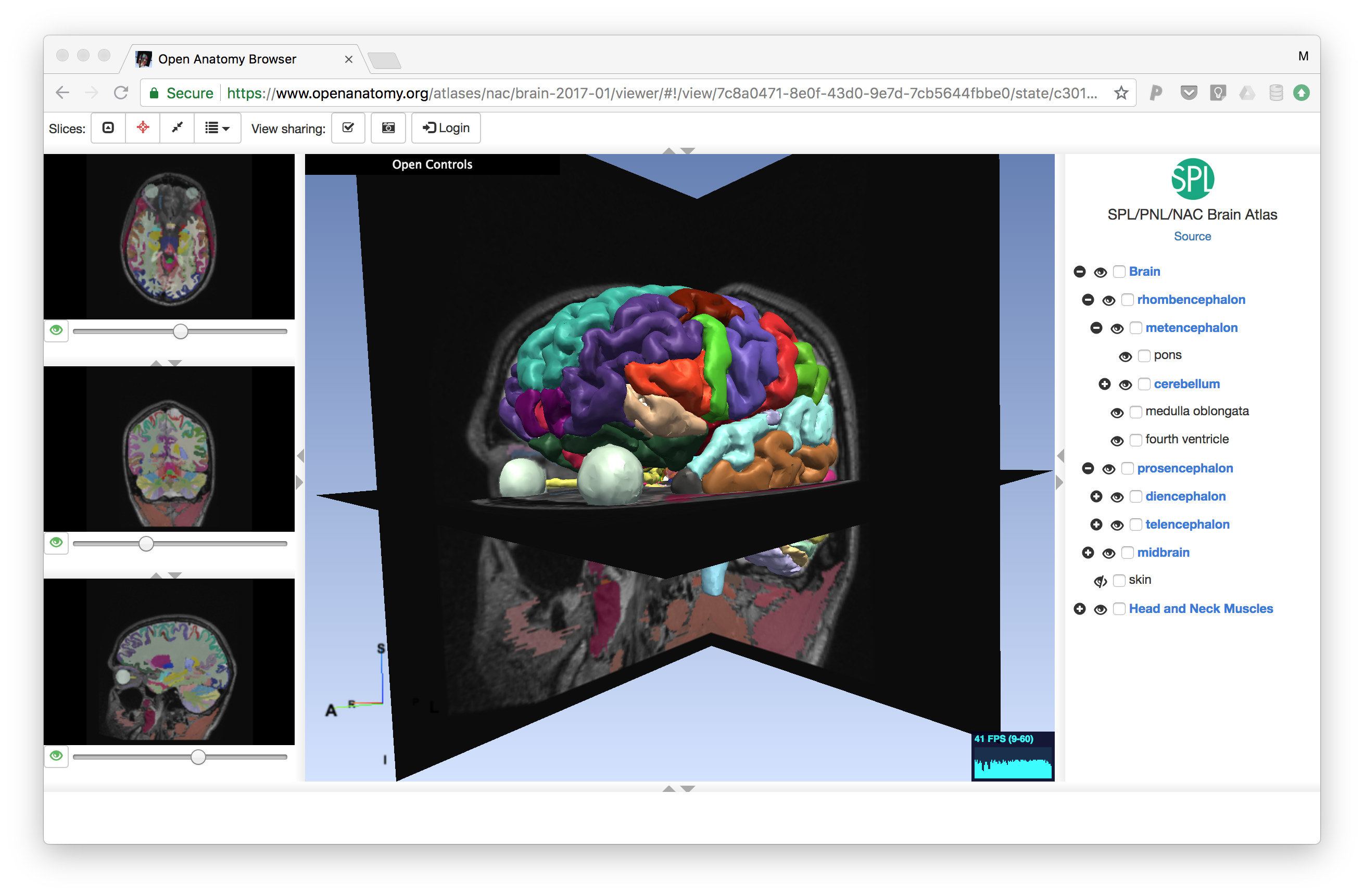 In 2016, Dr. Michael Halle and visiting researcher Valentin Demusey from the Surgical Planning Lab (SPL) began work on a new data format for representing anatomy atlases as part of the Human Atlas Working Group within the international neuroinformatics community through the International Neuroinformatics Coordinating Facility (INCF). Based on draft ideas from the group, they implemented a prototype web-based viewer, the Open Anatomy Browser or OABrowser, to test the format. As data they used atlases developed at the SPL including a complex brain atlas, and knee, abdominal, head and neck, and inner ear atlases.
The history of the SPL's anatomy browsers
Even using a draft data format and prototype atlas viewer, collaborators of the SPL enthusiastically embraced the OABrowser as a convenient tool to disseminate medical knowledge and teach anatomy. For example, Dr. Sonia Pujol, the SPL's director for outreach and dissemination, has used OABrowser to teach anatomical concepts to computer scientists and to medical students at Harvard Medical School.
The success of the Open Anatomy Browser has inspired the idea of a community-driven, web-accessible collection of anatomy atlases available to anyone in the world, for any purpose, for free.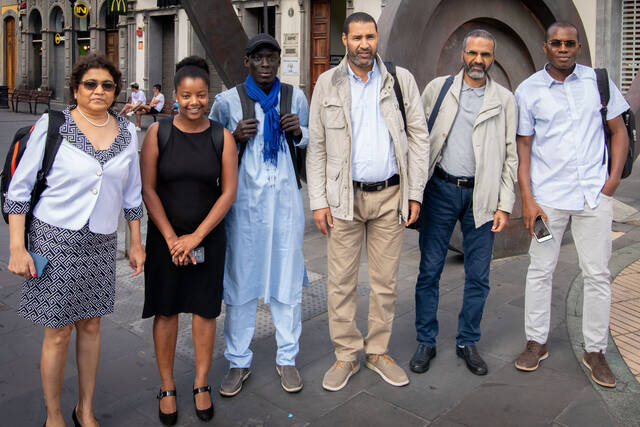 International outreach
The most exciting current outreach opportunity for Open Anatomy has come from an SPL collaboration with the European Union's INTERREG MACbioIDi project within the Medical Technology for Sustainable Development initiative in the Canary Islands headed by Dr. Juan Ruiz Alzola at the University of Las Palmas de Gran Canaria. This project is designed bring together partners from the Canary Islands in Spain, Madeira, Azores, Cape Verde, Mauritania, Senegal, mainland Spain, and the United States to advance cooperative medical expertise, training, and technology development.
The distributed nature of this medical training collaboration is a natural application for web-based technologies such as OABrowser. Neuroscientist and colleague Dr. Nikos Makris has used OABrowser to teach neuroanatomy over Skype to physicians in Senegal and Mauritania. We are working closely with the team in Las Palmas and their African partners, including teachers from Mozambique, to customize our tools and technologies for African classrooms.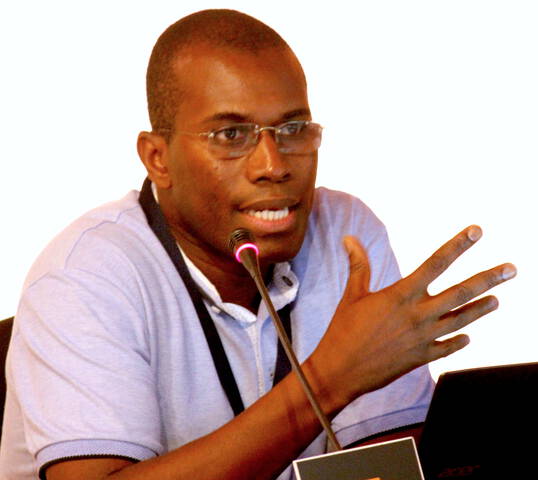 In June of 2018, teams of developers, phyicians and scientists from the 3D Slicer community came from all over the world to the Canary Islands as part of a twice-a-year workshop. For the first time, they met with their peers from Sub-Saharan Africa to find new ways to partner to develop open medical technologies for Africa.
During the week-long meeting, Dr Babacar Diao from the Medical Training University from Senegal used 3D Slicer to develop an atlas of the pelvis of one of his patients. He presented his work to a diplomatic meetings with Senegal's Ambassador to Spain and the Senegal Surgeon General.
Dr. Diao's pelvic atlas will soon become part of Open Anatomy Project, demonstrating that medical expertise is not limited to a particular continent or country. Similarly, the Las Palmas team and their partners will work to translate existing anatomy atlases into French, Portuguese, and other languages for the benefit of an entire world of non-English speakers.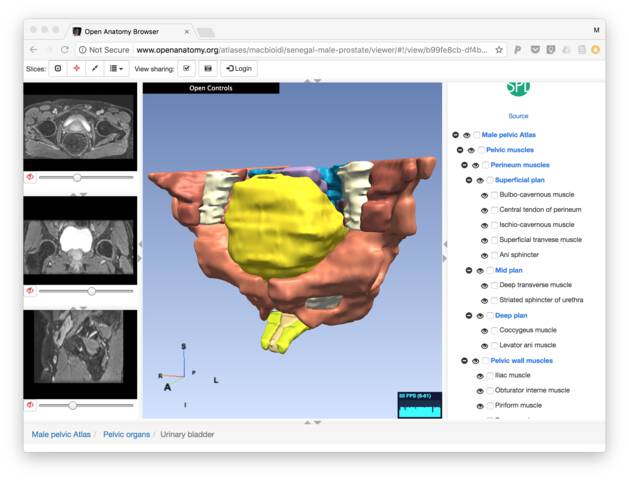 These early collaborations demonstrate the viability and potential of the basic tenets of the Open Anatomy Project.
What's wrong with today's anatomy atlases?
Anatomy atlases are incredibly powerful tools of medical knowledge. Today's anatomy atlases, however, do not fulfill their full potential.
They are least available where they are needed most
High quality anatomy atlases today are commercial items produced my major publishers and sold for profit. Anatomy textbooks are typically high quality print books that sell for high prices. Profit, not need, determine the cost of the texts and the languages into which they are translated.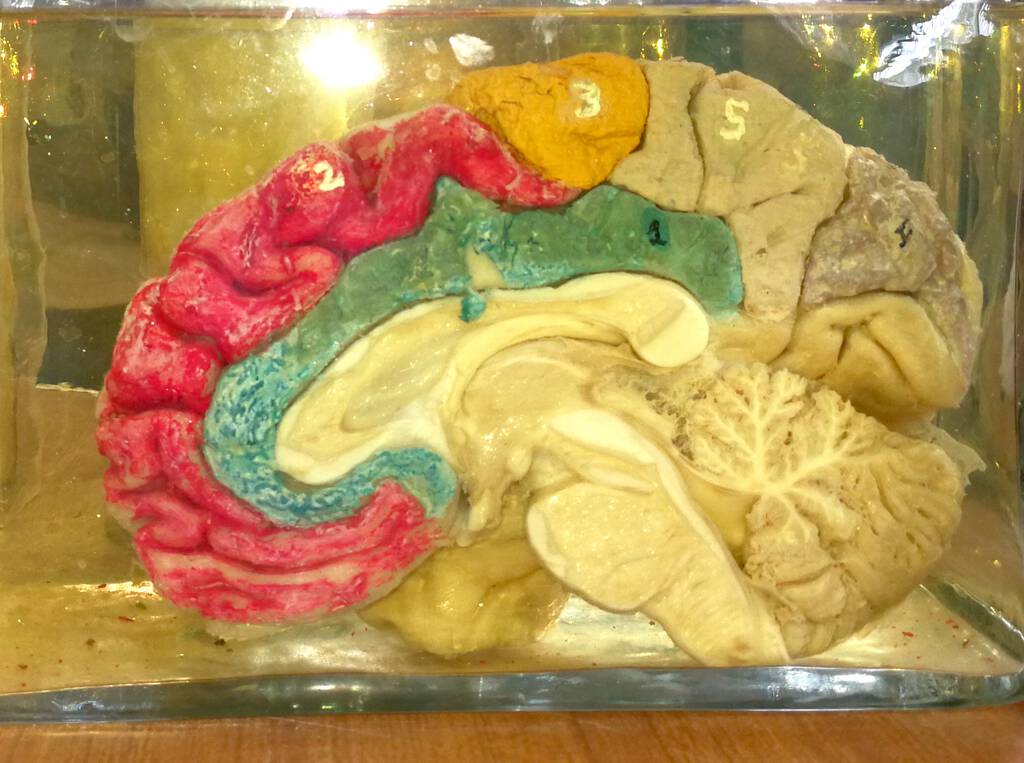 We have medical colleagues in Mozambique training that war-torn country's next generation of physicians. Mozambique has three doctors for every 100,000 citizens, the second worst ratio in the world, in a country where average life expectancy is fifty-five. To teach brain anatomy, they use hand-colored brain sections preserved in formaldahyde. An acute shortage of medical cadavers due to the prevalence of HIV in the country greatly complicates medical education.
Rural Mozambique residents live on about $1.25 per day. Expensive anatomy atlases are simply not available, not in native Portugese taught in Mozambique's Eduardo Mondlade Maputo Medical School, and certainly not in the scores of native languages spoken in the country.
Online and digital atlases can reduce the cost of distribution to countries like Mozambique, but high quality atlases are still commercial and costly. They exist as their publisher or their developer wishes them to be: there is no way, for instance, for an anatomy teacher or linguist to translate an anatomy atlas into his or her native language without entering an agreement with the atlas publisher.
They don't capture different viewpoints and change
It is a common view that anatomy is well-understood and widely agreed upon, and today's anatomy atlases perpetuate this view. While anatomists do broadly agree about major organs, there is constant and healthy debate about regions or zones of different organs, particularly the brain. Far from being a deficit, this debate exposes important areas of anatomical research that are fundamental to our understanding of our bodies, health, and disease.
What's more, new anatomical discoveries such as the brain's lymphatic system and peripheral nerve connections have been made in just the last two years. While academic publications are important to mark these discoveries, dissemination through anatomy atlases is a critical step in bringing them to clinical medicine.
Yesterday's printed text can't capture today's landmark anatomical discovery or new theory. While an online atlas or "app" can be updated where a book cannot, no current digital atlases consider debate and change to be strengths, not weaknesses. In contrast, online knowledge sources such as Wikipedia feature debate and discussion as a part of every article.
They fail to capture anatomical variation
The vast majority of anatomical atlases represent only typical anatomy, with only major variations such as male and female reproductive systems included. Typical anatomy provides an important general perspective and specific details that are accurate the majority of the time.
Typical anatomy, though, is not the same as normal anatomy. Normal healthy human beings can have any of hundreds of possible known anatomical variations. Conflating "typical" and "normal", as typical anatomy atlases do, can have real consequences for patient treatment.
Anatomical variation is surprisingly common in the human body. For instance, In a 1941 "study of 631 Caucasian bodies, Schultz found sacra with four vertebrae in 1%, five in 77%, six in 21.7%, and seven vertebrae in 0.2%" (according to the Illustrated Encyclopedia of Human Anatomic Variation, perhaps the only online source of this information). According to Wikipedia, 8% of humans have a median artery in the forearm, 10% have an auxilary spleen, and 27% have an extra psoas muscle. Kornafel found anatomical variations of the arteries branching from the abdominal aorta in 43.8% of patients, and variation in renal arteries in 41.3%.
The anatomy of babies and children is also distinct from typical adults.
These variations are important for more than academic or inclusion reasons. They can be a matter of life and death. Babacar Diao, the Chief Physician at the Military Medical School in Dakar, Senegal, has emphasized the need for teaching anatomic variations, saying that he fears that physicians inexperienced with specific anatomy might be confused by a healthy patient, or worse, try to correct it.
They are monolithic and closed
Atlases are not just teaching tools; they are repositories of anatomical knowledge organized in an understandable, spatial fashion. But today's atlases are encombered. They can't be translated. They can't be extended. They can't be remixed to create new atlases that, for example explain a particular injury for patient education. They can't be compared to other atlases. They can't be ripped apart and used to create virtual reality simulators or to print three-dimensional models of organs. They can't be mined by deep learning algorithms.
These highly valuable applications aren't possible because of the closed environment and restrictive licensing of commerical anatomy atlases.
The promise of Open Anatomy
Open and free digital anatomy atlases can solve each of these shortcomings. Digital atlases can be distributed using the Internet, and the free distribution model allows local copies to better serve locations with intermittent network connectivity. Open atlases can be translated into local languages. They can be adapted to specific cirriculum needs.
Atlases by different authorities can be compared and cross-references, then reconciled or merged if possible. New information can be added to atlases, with old atlas versions retained for compatibility. The focus of each atlas can be tailored to the expertise of the author and the needs of the audience.
We envision a rich variety of atlases being developed by a growing community of anatomists, researchers, illustrators, and teachers. Each atlas can be a foundation to build other atlases as well as new applications for structured anatomical data. In time, we expect case studies and other specialized atlases to be published right along side more general anatomy atlases, with links between them allowing simplified searching and linking.
By simplifying the publication of anatomy atlases, we hope to build a centralized, cross-referenced library of spatially-organized medical knowledge with scores of examples of the anatomical construction of humans and other organisms. This library will capture both the commonality and the diversity of the structure of life in the way no other resource can: through the shared expertise of the world's medical experts.
This grand vision of Open Anatomy will be possible with the help of the international medical, scientific, academic and engineering communities.